Talemwa Nalugwa Kabuleta, BA.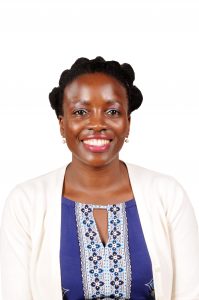 Project Manager
Makerere University College of Health Sciences
Uganda Tuberculosis Implementation Research Consortium
talemwan@yahoo.co.uk
I am a researcher, study coordinator and project manager with a strong interest in developing and deploying innovative public health and social protection interventions aimed at fighting TB. My work thus far has focused on implementation research projects that focus on both innovative public health interventions and the contexts with in which these interventions are implemented. Through our work, I have led and presented health systems analyses and costs. I have participated in creating new collaboration with, developing partnerships by engaging national stakeholders and providing context that keeps TB patients and their needs at the center of our goals.
I am developing a leadership career path to develop and implement social protection strategies for public health.
---
Publications:
Katherine Farr, Talemwa Nalugwa, Priya Shete, Adithya cattamanchi, Mariam Nantale, Christopher Ojok, Denis Oyuku, Sarah Nabwire, Catherine Fielding, Moses Joloba, Frank Mugabe, David Dowdy, David Moore, J. Lucian Davis, Achilles Katamba. The Tuberculosis diagnostic evaluation cascade of care at microscopy centers linked to Xpert MTB/RIF hubs in Uganda.
Talemwa Nalugwa, Mariam Nantale, Priya Shete, Katherine Farr, Moses Joloba, Frank Mugabe, Adithya Cattamanchi, Achilles Katamba. Challenges with implementation of Xpert MTB/RIF testing for Tuberculosis using the hub-and-spoke model: September 2017
---
Research keywords:
Websites:  www.u-tirc.org