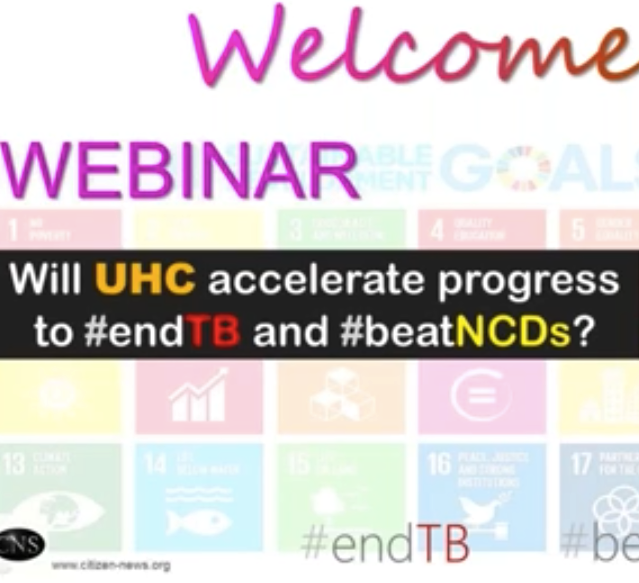 Universal Health Coverage: Webinar recording, podcast and experts' presentations #endTB #beatNCDs #SDGs
Governments have committed to achieve Universal Health Coverage (UHC) by 2030 by adopting the UN Sustainable Development Goals (SDGs). Also earlier this year in 2017, at the 70th World Health Assembly, governments and other partners, reinforced their promise to work together with renewed urgency to achieve UHC by 2030. UHC means everyone can access the quality health services they need without financial hardship.
On UHC Day 12th December, this webinar featured key experts and discussion on how will UHC accelerate progress towards not only ending TB but also averting premature deaths from non-communicable diseases (NCDs).
Panel of experts
Dr Kerri Viney, Sidney Sax Post-doctoral Research Fellow, Department of Public Health Sciences (PHS), Karolinska Institutet, Stockholm, Sweden; and Chair of Australasian TB Forum
[Presentation slides] [Watch 4:20 – 21:30 of webinar recording for this presentation]
Gini Williams, expert from the International Council of Nurses (ICN); and member of the International Union Against Tuberculosis and Lung Disease (The Union)
[Presentation slides] [Watch 21:40 – 35:10 of webinar recording for this presentation]
Dr Rajesh Kumar Sood, District Programme Officer at National Health Mission, Department of Health and Family Welfare, Govt of HP, India
[Watch 35:15 – 41:20 of webinar recording for this presentation]
Open session and Q&A
Watch 41:25 – 1:05:00 of webinar recording for this presentation
Moderators
Ashok Ramsarup, International award winning journalist and former Senior Producer, South African Broadcasting Corporation (SABC), Durban, South Africa
Shobha Shukla, Managing Editor, CNS (Citizen News Service)